I was finally able to catch a glance of the stars of the Hollywood Walk of Fame. I didn't really have time to take a good look at them, because I was in rush still house hunting carrying my house on my back. I looked around for the closest coffee shop so I could update my portfolio. Without really knowing how I managed to land over here and without even really hoping for it, it is in the heart of the cyclone that I will be showing my work tonight on Hollywood Boulevard. A friend on mine, Eli, who is visiting Los Angeles wants to introduce me to his Hollywood family and help me to realize my dreams as soon as possible of becoming a set photographer as soon as possible. Those people welcomed him 50 years ago when he arrived in Los Angeles. It is his turn today to help me out.
So here I am, loaded to the hilt, running along the boulevard between tourists, the Marilyn Monroes and the Spidermans, looking for flowers or a bottle of wine to offer to those people who kindly invited me for dinner. Hollywood Boulevard, I want to live it, and certainly not take it home like a souvenir. Unfortunately, I arrived empty handed, still in "Gypsy Wander Woman" mode, with only a big smile to offer, so happy and curious to see which surprises are waiting for me, thanks to the support of my friends and their trust in me.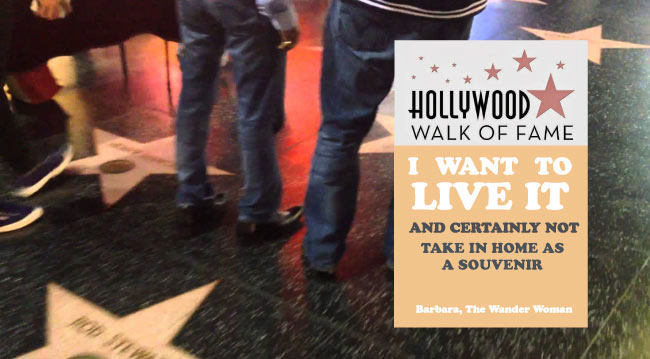 I will meet Ron a set photographer who worked, among many others, on the film "Pretty Woman". He gave me advices, liked the sensibility of my work and promised to get in touch with me for futures opportunities.
Mathew told me about a short film that I could maybe work on end of April. I took his phone number asking him to remind me his name! Yeah, Hollywood, I wish to live it, but I don't know much about it yet. I'm not interested in meeting famous people, and can recognize only few. What I wish to discover is the person being the character. Mathew is actually the actor who played in the serial "Six Feet Under", one of the few TV shows, that I have watched, because I was so intrigued by the taboo subject of this serial: death.   
I also met Susan, a Film, TV and events produce, from Kerala state in India. She was so pleased to find out that I knew the wonderful area where she is from, including the smallest villages that no tourists usually go to.
I'm still laughing at my naïveté which in a way, may charm people as it brings them some kind of fresh vibes. I hope that this state of happiness will opens up doors for me with lightness. I just need to know which ones I really wish to open. I like the fact that I'm living these experiences at my age. Had I lived them when I was younger, I may not have been able to control my excitement and wouldn't have been able to stay focused. However, I'm aware that I need to make sure to not let myself be dazzled by the sequins and be pulled away from the reality of my heart.
The Wander Woman

A career as an art director in London and as a photographer, Barbara quit everything to live in a fitted van and produce  "THE HEART OF FRANCE IN 80 DAYS ". Then, she wins the green card at the lottery! She is now in Los Angeles without knowing what's waiting for her except the sun and her dreams to fulfil.
Qui m'aime me suive!